Into the second year of training provided by iGaming Academy.
257 active users spanning over 30 locations and speaking an array of languages.
Courses provided: AML for US, UKGC, and MGA; RG for US, UKGC, and MGA; GDPR; LCCP, amongst others.
Learning Management System (LMS) provided for custom content designed for EEG staff.
Who are Esports Entertainment Group?
Esports Entertainment Group (EEG) are a publicly listed full stack esports and iGaming company that want to connect the world with the future of sports entertainment by bringing gamers and fans together. EEG influences the whole spectrum of esports and gaming as they have traditional sports partnerships with professional sports teams from the NFL, NBA, NHL, and MLS. From offering esports wagering and online tournaments to sports betting, EEG cover multiple areas and jurisdictions around the world.
What challenges were EEG facing?
EEG have multiple companies within esports and iGaming spanning markets and jurisdictions around the world. Having companies within various markets means that there are different regulatory requirements that need to be met. This can be difficult as regulations are frequently updated and the training must be provided by a verified source. EEG needed to provide their staff with the correct training, ensuring they would be compliant with all relevant regulation whilst issuing appropriate qualifications.
Another important aspect to consider was the length of time taken to undertake the training. It is no secret that completing training can be tiresome for staff, whilst also taking away valuable time from work. Finding a balance of training and timesaving was a key factor for EEG to consider.
What did iGaming Academy provide?
iGaming Academy offered a solution for all of EEG's compliance training needs. EEG have received access for multiple courses, including: Anti Money Laundering (AML) for US, UKGC, and MGA; Responsible Gambling (RG) for US, UKGC, and MGA; GDPR; LCCP, CRM, Information Security, and more.
Our bespoke Learning Management System (LMS) enables staff members to access the relevant training for their jurisdiction. The platform provides numerous features that have helped EEG meet their training needs, including:
Option for EEG to add their own content, enabling them to create training or announcements through one platform that their staff are already familiar with.
Access to refresher-style training courses, an exciting feature for EEG and its staff. Staff members are able to take part in a test which, if they pass, enables them to take a shortened version of the module. By providing this, staff can shorten their training whilst still being compliant with the regulations and promptly resume their duties once they have passed.
Coming into the second year together, iGaming Academy are delighted to be working with EEG, providing them with their training needs, and look forward to helping them in the future.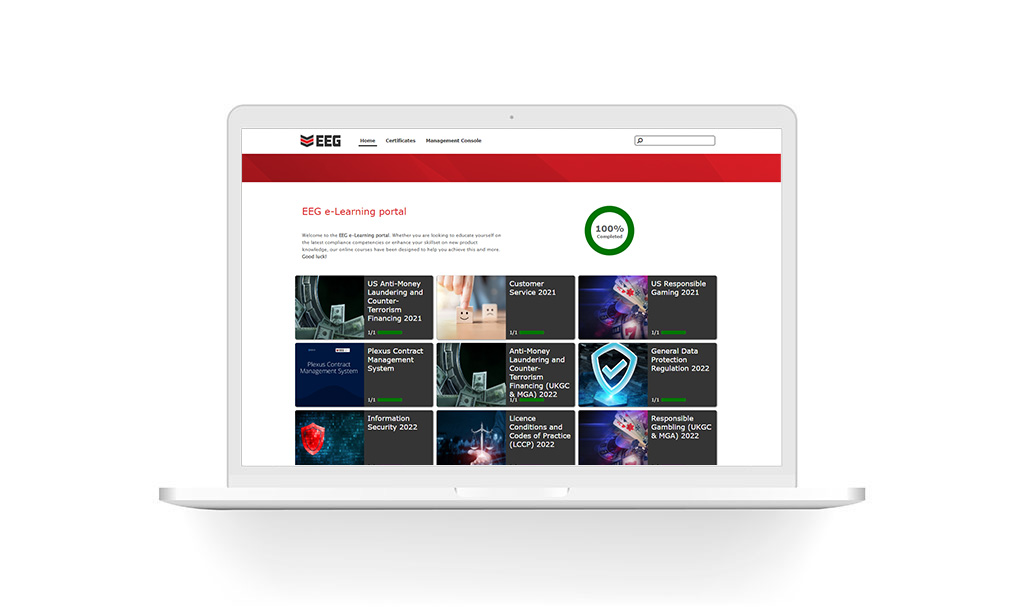 Why did EEG choose iGaming Academy?
"Apart from the high quality training courses that IGA provides, they are a great company to work alongside for training and development needs of our people. Not only are they always available for support at any time but you can see the dedication and passion they put into providing the best service possible"

Dalma Ferenczi
HR Specialist
---
Interested in learning more about our bespoke LMS solutions?
Our iGaming LMS Solutions delivers high-quality eLearning courses ideal for training regulatory compliance and key skills